Experience
Over 20 years of experience in the field of Domotics, Home Living and System Integration make VBS a leader in creating technologies that improve the quality of life inside buildings and private residences. Lighting scenarios, plays of light and shadow, diffusion of multimedia content, systems for the acoustic optimization of environments: we offer technologically advanced solutions to manage all the devices that regulate an environment.
Experience
Passion
Not only experience, but also ongoing commitment and passion for the work we do, allow us to understand and meet the desires of our customers. The team is looking to constantly expand its know how, in order to offer products and solutions that are increasingly innovative and performing.
Passion
customization
From planning to development, from installation to maintenance: we take care of system integration 360 degrees, giving the customer not a product, but an experience to live.
customization
Guilty by Jeff Koons
Showroom VBS at MAM – La Bottega
International Design and Architecture Award
Langosteria 10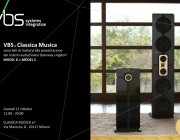 VBS present …